Family Heirlooms – Your Tomato is the Wrong Color
Still reeling from the watermelon bomb I dropped on you? Well here we blow again: tomatoes aren't all red either – and did I mention they're actually not vegetables either? Okay, I'll stop.
Seriously, there are so many amazing types and varieties of tomatoes in the world, and thanks to the rise of heirloom vegetable growing and farmers' markets, you are seeing more and more of the delicious tomato spectrum…
Tomato spectrum? That needs to be a thing. Here's the spectrum of tomato varietals offered by Baker Creek Heirloom Seeds, along with examples (many of which I have grown and enjoyed):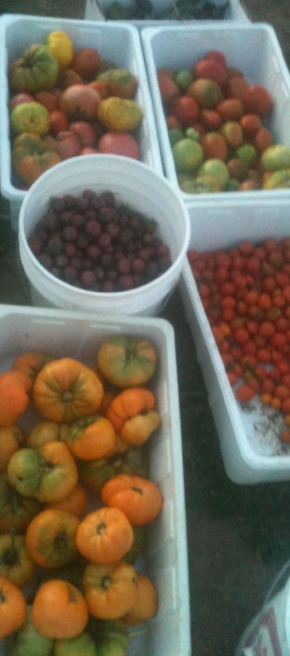 Red – Amish Paste (paste), Riesentraube (cherry), Moneymaker (slicer)
Pink – Brandywine (slicer), Mortgage Lifter (slicer), Pearly Pink (cherry)
Orange – Dr. Wyche's (my personal favorite slicer), Kentucky Beefsteak (slicer), Orange Icicle (paste)
Yellow – Yellow Pear (cherry), Blondekopfken (cherry, available through Seed Savers)
White – White Tomesol (slicer)
Green – Green Pineapple (slicer), Green Zebra (cherry)
Blue – Black Beauty (slicer)
Purple – Black Cherry (cherry), Chocolate (slicer)
Striped – Beauty King (slicer), Gold Medal (slicer)
That is but a sampling of all the types of tomatoes available out there. I suggest you give some a try next planting season.
Planting note: if you have never grown tomatoes before, be sure to take notice of a couple things:
Not only are tomatoes different colors, but they are also different shapes (as you may have noticed earlier); the shape/type can be an indicator of how they are best used. Paste tomatoes are best for canning; cherry and grape tomatoes work well for fresh eating in salads; and slicer tomatoes are ideal for... you guessed it, slicing.
Determinant/Indeterminant varieties - determinant tomatoes grow to about 3' in height (as if their size were predetermined) while indeterminant plants will grow like a vine sometimes reaching 6-7'. Both do better with cages, but the latter will require a taller structure to keep the plant from hanging on the ground.
Just in case you hadn't seen it yet, here is the footage I took at this year's Lamb Cook-Off at the Union County Fair. I'll be encouraging my Kitchen Brigade members to show their stuff next year, so stay tuned!